Terratrak is designed for use on sensitive turf areas. Ideally suited to stadiums and other large-scale venues that need to accommodate both heavy equipment and large crowds. The flooring system can function as a stable base for big stages and grandstands or as safe access for forklifts, site traffic and heavy goods vehicles.
GET IN TOUCH
Material
translucent polypropylene
Dimensions (l x w x h)
1.22 x 1.22 x 0.038 m (48 x 48 x 1.5 in)
Weight
20.00 kg (44 lbs) per element
Surface
interlocking overlap system creates a continuous unbroken surface
Transport
approx. 1,200 m² (12.917 ft²) per standard trailer
PRODUCT FEATURES
Terratrak is designed to allow permeability of air and sunlight to minimize impact on conditions of the subsurface turf. Overlapping panels and multi-directional locking mechanisms allow for weight dispersal and minimizes compaction of the undersurface. Capable of protecting the world's best sports pitches from the heaviest of event traffic.
DID YOU KNOW?
Pedestrian friendly
Air and light-permeable
Liquid spill protection
Weight distribution of load protects sub-surface and reduces compression
Suitable for indoor and outdoor use
Supports access for heavy vehicles up to 12 ton per axle
Optimal performance on flat, firm ground
BEST PRACTICE
Terratrak is designed for use on sensitive turf areas, ideally suited to stadiums and other large-scale venues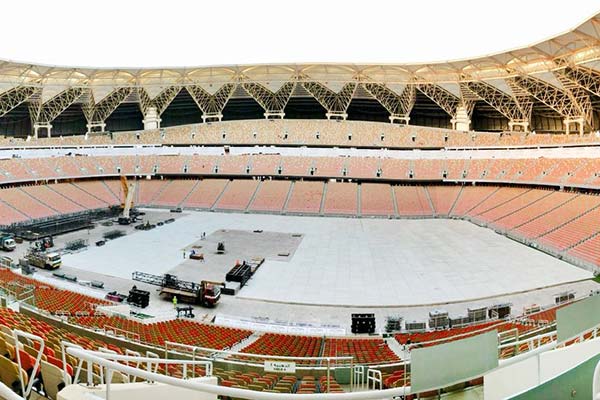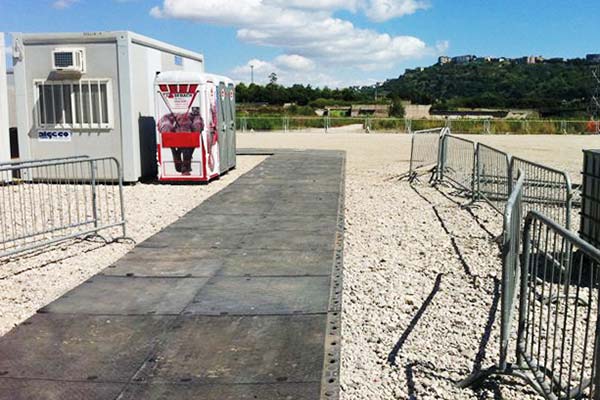 OPTIONAL EXTRAS
Visually contrasting ramp accessories to ensure smooth transitions to sub-surface
eps offers an optional range of underlays to protect the sub-surface and adapt to ground conditions
Transition products to seamlessly connect Terratrak with other ground- and turf protection systems
Cable Protectors are available to safeguard equipment and audiences on the event floor
eps offers CAD design to help optimise the planning process
APPLICATIONS
Stadiums –turf and running track protection
Foundation for stages and grandstands
Sensitive ground protection
Temporary event spaces
Tennis Courts