Plywood has a multitude of site uses. Suitable for covering natural surfaces, playing surfaces or floors such as athletics tracks. The easy-to-work wooden solution can be used to quickly build walkways, roads and stable surfaces.
GET IN TOUCH
Material
uncoated, glued wooden board (Elliotis pine)
Dimensions (l x w x h)
2.44 x 1.22 x 0.02 m (8 x 4 x 1 ft)
area: approx. 3.00 m² (32 ft²)
Weight
approx. 35.00 kg (77 lbs) dry
up to 50.00 kg (110 lbs) damp
Accessories
PE foil, geotextile, special ramps (steel)
Transport
stack of up to 50 panels (150.00 m² / 1,615 ft²)
approx. 1,800.00 m² (19,375 ft²) per standard trailer
PRODUCT FEATURES
Plywood consists of thin layers of wood that are glued and pressed into a single robust panel. A relatively lightweight material, it is easy to transport and can be installed by hand. The nature of the material makes it easy to process and cut-to-size resulting in a wide range of bespoke applications.
DID YOU KNOW?
High transport and cost-efficiency
Allows for onsite flexibility and adaptability
Capable of supporting high point loading when installed in multiple layers on a firm subsurface
Ease of install makes Plywood suitable for dry hire
Suitable for flat ground conditions
As sunlight and air cannot penetrate the wood Plywood is optimal for short-term installs
BEST PRACTICE
Plywood is quickly ready for use and withstands even heavy vehicles on soft surfaces due to the very good load distribution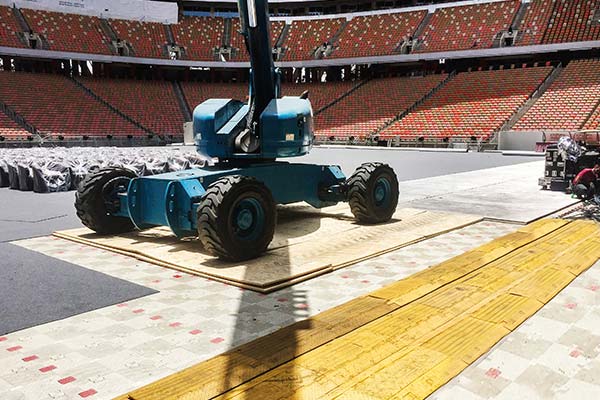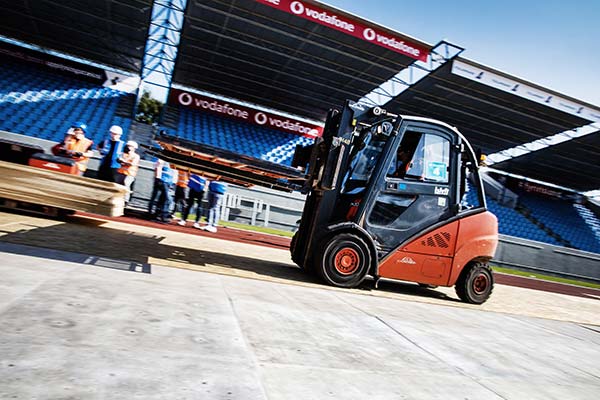 OPTIONAL EXTRAS
eps offers an optional range of underlays to protect the sub-surface and adapt to ground conditions
Box Panels, Arena Panels and LD Rolls can facilitate heavy-duty, pedestrian-friendly vehicle access
APPLICATIONS
Substructures
Temporary access routes
Temporary event spaces
Leveling
Greenfield sites
Sensitive ground protection
Festival sites