LD rolls are an excellent solution when it comes to providing the flexibility of short-term access routes for lighter to medium-heavy loads. The rolled trackway allows for the fast creation of lightweight roads or access points. The system gives sites continuous flexibility.
Material
strand cast aluminum
Dimensions (l x w x h)
20.00 x 3.00 x 0.02 m (65 ft 7 in x 9 ft 10 in x 1 in)
Weight
approx. 1,215.00 kg per 20.00 m roll
(2,678 lbs per 65 ft roll)
Transport
240.00 m (787 ft 4,82 in) (12 rolls) per truck
(720.00 m² / 7,750.0 ft²)
PRODUCT FEATURES
The LD Rolls can be deployed, collected and redeployed within minutes, allowing for repeated use across event or construction sites.
Their ultra-thin design minimizes trip hazards, and their slightly treaded surface prevents slipping, making LD Panels safe for pedestrian, wheelchair, bicycle, and forklift access.
DID YOU KNOW?
Pedestrian-friendly low profile and texture grip
Provides a rapid deploy 20m x 3m access route
Speed of operation for repeated use across sites
Ease of install makes LD Rolls suitable for dry hire
Supports adverse-weather contingency planning
Constructed from 100% recyclable materials
BEST PRACTICE
LD rolls are an excellent solution when it comes to providing the flexibility of short-term access routes for lighter to medium-heavy loads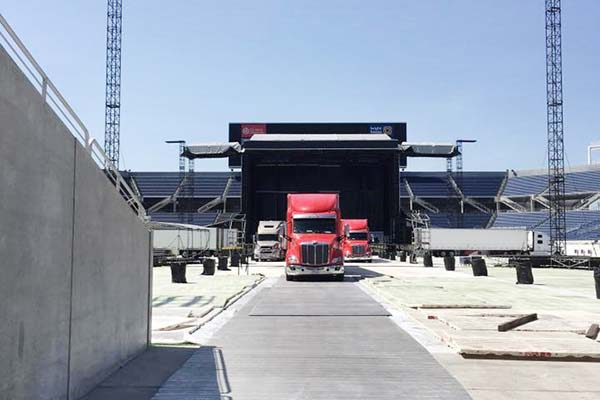 OPTIONAL EXTRAS
eps offers an optional range of underlays to protect the sub-surface and adapt to ground conditions
eps offers CAD design to help optimise the planning process
APPLICATIONS
Temporary access routes
Path widening
Festival sites
Greenfield sites
Sensitive ground protection
Car Parks
Heavy goods vehicle parking bays
Construction routes
Compounds