Hexagon ground protection mats open a wide range of possibilities for covering differently contoured surfaces in a variety of configurations. The flexible ground protection system is suitable for both soft and hard surfaces and can support light to medium loads, depending on the condition of the sub-surface.
GET IN TOUCH
Material
recycled plastic
Dimensions (l x w x h)
square measure: 0.27 m² (2.9 ft²)
edge length: 0.32 m (13 in)
height: 0.04 m (2 in)
Weight
approx. 3.20 kg (7 lbs) per tile
Accessories
PE foil, geotextile
Transport
up to 16 (euro) pallets (1,030.00 m² / 11,087 ft²) per standard trailer
PRODUCT FEATURES
The versatile and robust tile system connects on all sides via an integrated locking system and the hexagonal shape allows for complex, seamless installations. Hexagon tiles traverse undulating ground and provide a continual smooth surface for pedestrians and light vehicles.
DID YOU KNOW?
A universal ground cover for uneven and irregularly shaped sites
Integrated six-sided connection system
Allows for versatile configurations including angles of 30°, 60°, and 90°
Ease of install makes Hexagon suitable for dry hire as well as serviced hire
Treaded texture on the surface provides anti-slip traction
Suitable for indoor and outdoor use
Optimal performance on flat, firm ground
Made from recycled materials
BEST PRACTICE
Hexagon is a universal ground cover for uneven and irregularly shaped sites such as festival camping sites – here installed at "Rock am Ring Experience Camping"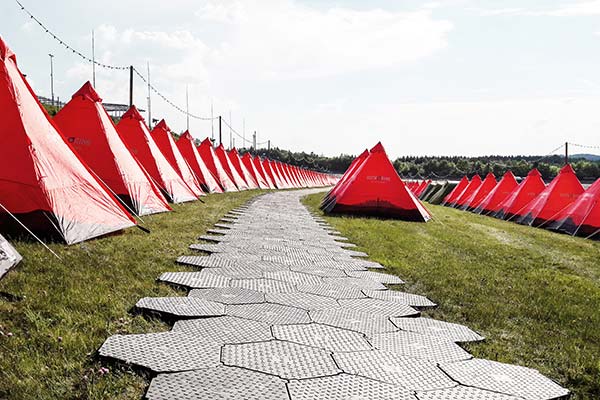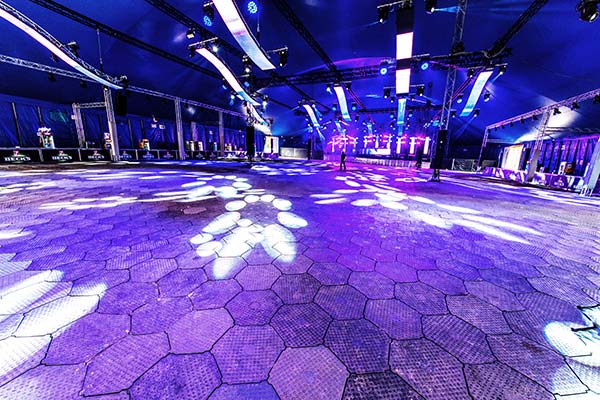 OPTIONAL EXTRAS
eps offers an optional range of underlays to protect the sub-surface and adapt to ground conditions
LD 20 for a rapid deploy access system with weight distribution
eps offers CAD design to help optimise the planning process
APPLICATIONS
Queuing lanes and walkways
Area creation
Festivals
Parking Areas
Temporary access roads
Storage areas
Greenfield sites
Sensitive ground protection
Temporary event spaces
Construction Sites