The heavy-duty Easymats are a temporary floor covering system for hard surfaces and sensitive green areas. The mats can be laid easily by hand in versatile configurations, the ideal solution for quick construction of temporary roads or pedestrian pathways.
GET IN TOUCH
Material
recycled high-density polyethylene (HDPE)
Dimensions (l x w x h)
2.4 x 1.2 x 0.012 m (94.5 x 47.2 x 0.47 in)
Transport
50 mats per (euro) pallet
1,880 m² per standard trailer
PRODUCT FEATURES
Easymats have a unique anti-slip surface has been developed and tested to significantly improve the grip and forward movement of vehicles, even in the most difficult weather and ground conditions. The raised-tread surface has been engineered to be dirt-repellent to enhance traction.
DID YOU KNOW?
Unique connection system that compensates for thermal expansion
Dirt repellent to enhance surface traction
Pedestrian-friendly shallow profile
Ease of install makes Easymats suitable for dry hire
Treaded texture on the surface provides anti-slip traction
Suitable for indoor and outdoor use
Optimal performance on flat, firm ground
Made from recycled materials
BEST PRACTICE
Whether at a festival like "Rock am Ring" or a construction site, Easymats can be used flexibly everywhere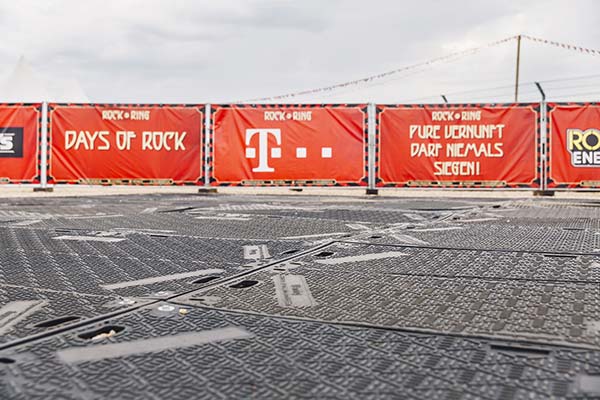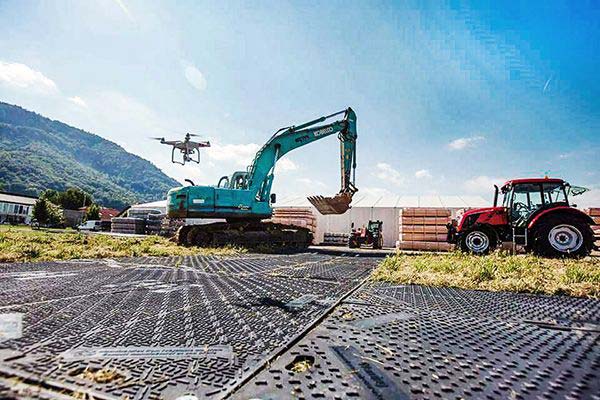 OPTIONAL EXTRAS
eps offers an optional range of underlays to protect the sub-surface and adapt to ground conditions
LD 20 for a rapid deploy access system with weight distribution
APPLICATIONS
Walkways
Storage areas
Parking Areas
Temporary access roads
Greenfield sites
Sensitive ground protection
Temporary event spaces
Festival sites
Construction sites