The interconnected PistEco plastic panels create temporary access roads, parking lots or working platforms. The plates are firmly secured together while allowing a degree of lateral movement to avoid buckling and accommodate irregular ground conditions.
GET IN TOUCH
Material
Polystone and PVC sheets
Dimensions (l x w x h)
2.40 x 3.60 x 0.035 m (7 ft 10 in x 11 ft 10 in x 1 in)
Weight
approx. 325.00 kg (715 lbs) per panel
Transport
168.00 m (550 ft) (70 PistEco sheets) per standard trailer
604.00 m² (6,501 ft²) per semi-trailer
PRODUCT FEATURES
PistEco plates are a durable and eco-friendly ground cover option. Made from recyclable and recycled materials, the combination of Polystone plates and tightly screwed PVC anti-slip sheets provide the essential weight distribution and traction to transport construction vehicles quickly and safely.
DID YOU KNOW?
Weight distribution of load protects sub-surface
Supports access for heavy vehicles up to 12 ton per axle
PistEco Panels are installed by a rear-mounted crane, guaranteeing safe access from the outset of installation
Eco-friendly, made from recycled and recyclable materials
BEST PRACTICE
PistEco is flexible and adaptable in all directions – a ground protection system for extreme surfaces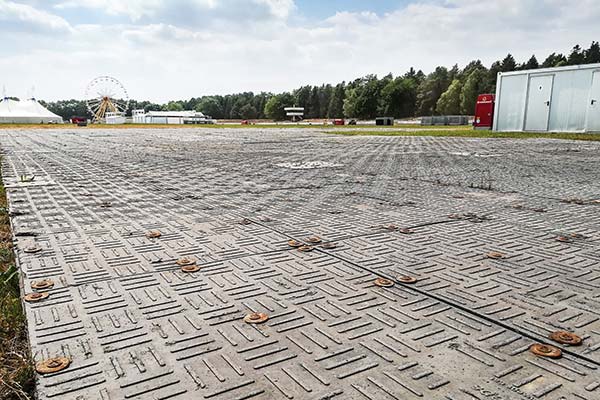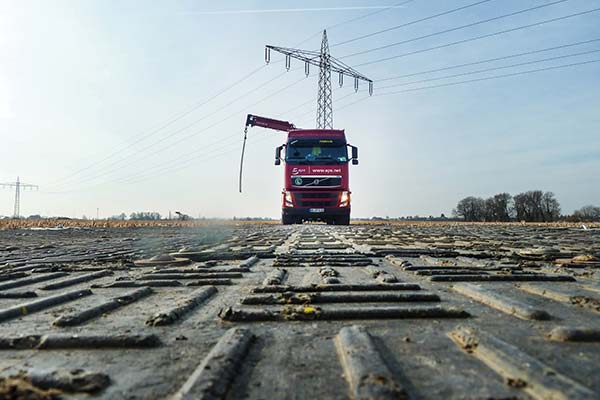 APPLICATIONS
Construction sites
Temporary access roads
Production routes
Compound areas
Car Parks
Film Locations
Adverse cambers
Sites with poor sub-surface