Toilet Trailers are constructed to a high standard using durable, high-quality materials. Easy to transport and maneuver, the units are ideally suited for every type of event – from private parties to street fairs up to large festivals. Each trailer is separated into male and female units with separate entrances. Gender-neutral signage is available on request.
GET IN TOUCH
Material
structural frame: 3 mm thick, galvanized sheet steel
doors: white, galvanized steel
base: PVC
Dimensions (l x w x h)
6.90 x 2.49 x 2.87 m (271 x 98 x 113 in)
Transport
passenger vehicle with a standard ball hitch and minimum 1.6 t towing capacity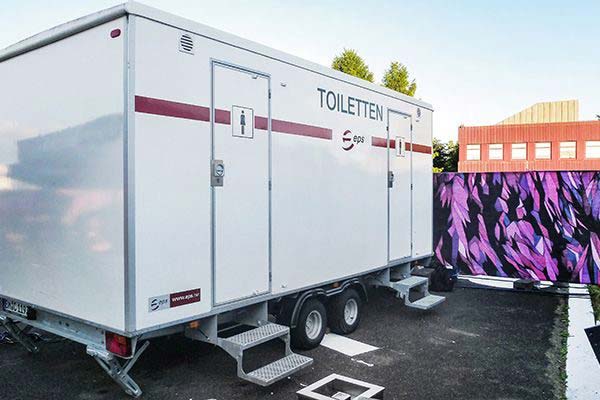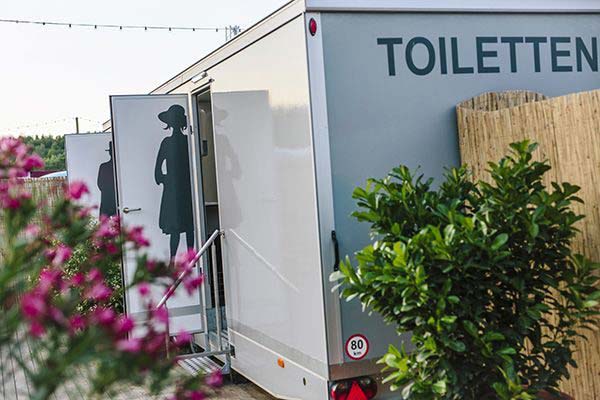 PRODUCT FEATURES
All Toilet Trailers can be delivered by means of passenger cars or light trucks with a trailer hitch. The double axle trailers can be easily maneuvered across event sites and positioned with accuracy.
The units are robust and weather-resistant. Supplied with adjustable electric heating, a hot-water heater, lighting, and durable PVC black high-gloss visibility protection in the urinal area. User-friendly accessories such as foldout stairs, stainless steel basins, faucets, towels and soap dispensers are supplied as part of standard delivery.
Cubicle toilets and urinals in toilet trailers are flushed with water. Waste water can be discreetly and cleanly routed to a sewage system. A 230 volt/16 ampere electrical connection is required for lighting, hot water and heating.
DID YOU KNOW?
Female, Male, Gender Neutral and Accessibility signage available on request
Female unit: 3 x toilets and 1 x hand basin
Male unit: 1 x toilet, 3 x urinals and 1 x hand basin
For event sites without existing water supply or sewage system, we offer portable solutions such as holding tanks and waste disposal
We also offer planning services, delivery, connection, intermediate and final cleaning and collection
BEST PRACTICE
A toilet trailer is a mobile sanitary solution with extra comfort and high-quality equipment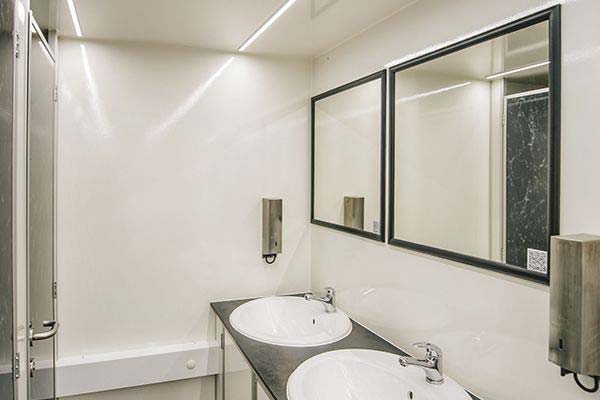 APPLICATIONS
Festivals
Greenfield sites
Corporate events
Sporting events and spectator areas
Outdoor events and functions