The extremely sturdy Sink Modules are custom-designed for high attendance events in venues with limited restroom access. Highly suited for festival arenas, campsites and crew campsites
GET IN TOUCH
Material
frame: sturdy and stainless steel
fittings: steel
floor: non-slip wood-paneled
Dimensions (l x w x h)
40 wash stands:
6.00 x 4.00 x 1.35 m
(19 ft 8 in x 13 ft 2 in x 4 ft 5 in)
2.40 m (7 ft 11 in) (packed length)

4 wash stands:
2.40 x 1.20 x 1.35 m
(7 ft 11 in x 3 ft 11 in x 4 ft 5 in)
Accessories
mirror, soap dispensers, mobile drinking water stations
Transport
4 washing modules per truck
equivalent to 160 washstands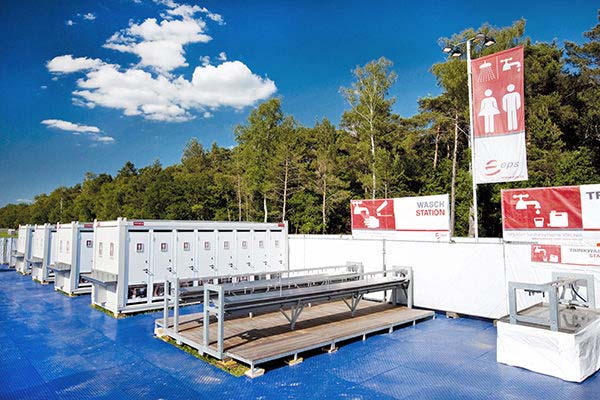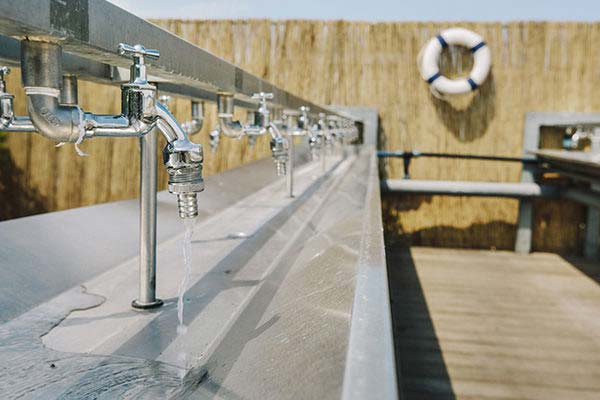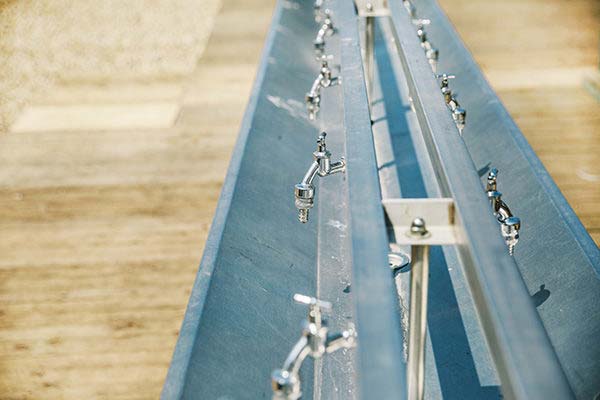 PRODUCT FEATURES
The Sink Module features 40 washstands, accessible from either side of the unit. A smaller model with four stands is also available.
All modules feature sturdy steel fittings and a fold-down 0.80 m (2 ft 7 1∕2 in) wide slatted wooden platform for users to stand on. The platform is designed to ensure water fast water run off to safeguards against slipping.
All Sink Modules can easily be loaded and positioned with a forklift.
DID YOU KNOW?
40 taps per module
Water-conserving self-closing valves
Sturdy, stainless steel construction
Non-slip wood-paneled floor
For event sites without existing water supply or sewage system, we offer portable solutions such as holding tanks and waste disposal
eps also offer planning services, delivery, connection, intermediate and final cleaning, and pick up
BEST PRACTICE
Sink Modules are custom-designed for high attendance events in venues with limited restroom access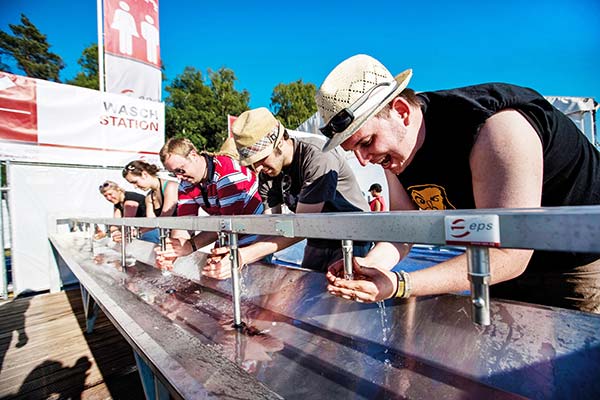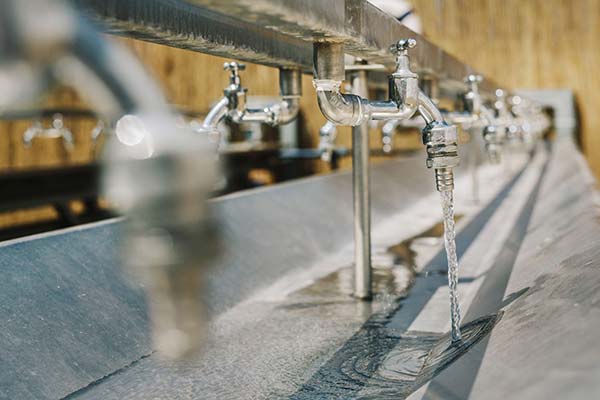 APPLICATIONS
Festivals
Backstage areas
Crew Campsites
Greenfield sites
Corporate events
Sporting events and spectator areas
Outdoor events and functions